Riverside Construction is proud to be an award-winning contractor. Our field employees and office staff work hard to complete the highest quality of work in all areas. One of the many ways we give back to our community is by providing financial assistance to students.
We are proud to provide financial assistance to students pursuing a college education in engineering through the Riverside Construction Company/Harmon-Lounsbury Scholarship
Visit IECF's website for more information.
2019
ENR California's Best Projects – I-10 Jefferson St Interchange
2017
Southern California Contractors Association ("SCCA") Contractor of the Year
2002
The Gary Moon Extraordinary Bad-Ass Contractor Award State Route 210 Segment 4
1999
SANBAG and Caltrans Certificate of Appreciation Award for Successful Completion of I-10 Segment Two
1996
Southern California Contractors Association ("SCCA") Contractor of the Year
1991
Concrete Industry Award of Excellence for Outstanding Paving Project United Parcel Service West Coast Air Hub, Ontario, CA
Gema Loera
While most little girls her age played with their Barbies, Gema Loera preferred to build the houses in which those Barbies would live. Whether it was with a tissue box, cardboard, or a nearby school book, Gema spent her childhood building things.
It's no surprise then that she is now a freshman at Cal Poly Pomona studying civil engineering. Gema is a 2012 recipient of a scholarship from the Riverside Construction Company Harmon/Lounsbury Scholarship Fund at The Community Foundation.
Gema and her five siblings immigrated to California from Mexico when she was six years old. She is inspired by her older sister who just graduated from Cal Poly Pomona with a civil engineering degree. Together, they plan to establish a women-owned business enterprise of multi-disciplined engineering firms, and will focus on employing women. "That will happen after I obtain my masters degree in civil engineering," states Gema.
She credits her parents support for her academic success. "They taught us the value of education," she stated. "I wanted to do well in school so I could help provide for them when they are older like they have done for me and my siblings."
Gema's family of eight is solely supported by her father, who works in the volatile construction field. "This scholarship has allowed me to pay for my own education," says Gema. She is thankful for the support and the opportunity to make her parents proud "that they have a responsible daughter."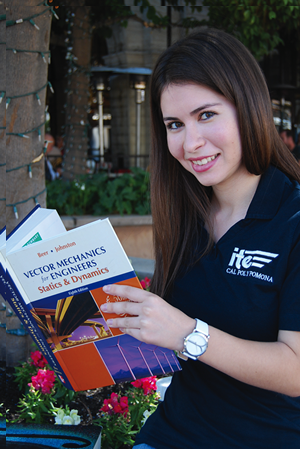 CBU Engineering Scholarship
Thank you Riverside Construction for playing a great role in my success as a future engineer.
Words cannot begin to describe how much I appreciate the efforts you are making to help change the lives of others like me for the better.
Thank you so much for making such great contributions to my fellow classmates and myself and God bless you, you're making dreams come true.
This project will complete drainage facilities for the Meridian Business Center.
Once completed, this project will alleviate traffic congestion along Newport Road and provide an additional roadway connection from the east to west thoroughfare of Menifee, thereby avoiding direct interchange travelers.
This project will construct a bridge and bike tunnel on Ontario Ranch Road at Archibald Ave.